Functions
We know how to throw a party, and we'd love to
host yours.
mini is most suited to intimate, seated functions. It can accommodate up to 60 people sit down or 90 people standing. Guests are required to dine from our set menu and meet a minimum spend.
For bookings, fill in your event details using the form and we'll be in touch.
Brought to you by East Street Dining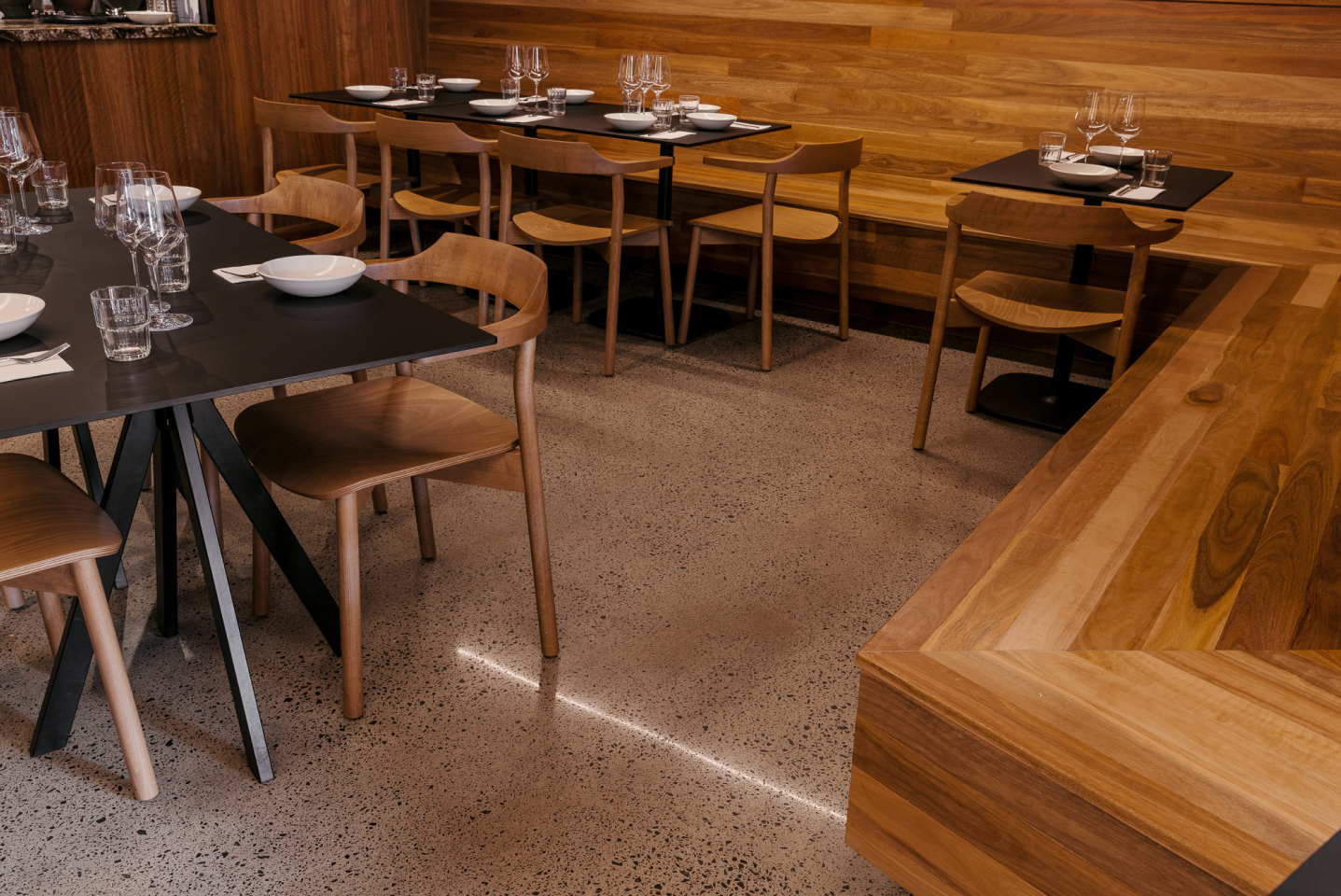 FAQs
We are open for lunch on Friday 12:00pm - 2:00pm and dinner on Tuesday - Saturday from 5.30pm.

mini is an elegant, timber-clad restaurant right next door to Snack Man and Happy Boy. The intimate room seats up to 60 people with views of fairy-lit trees, or our dynamic, open kitchen. The design team spent a lot of time thinking about the acoustics of the space, so customers sensitive to loud venues will be happy to hear that at mini, conversation is definitely on the menu. 

In terms of food and drink, we share the same focus as our sibling venues next door - beautiful flavours, fabulous wine and great value. mini is inspired by the neighbourhood bistros of France, with a focus on showcasing the best of these classic dishes. mini's menu has been designed to cater for both a la carte and shared dining experiences, depending on your table's preference. 

Just next door to Snackman, behind the fairy lights on East St.

Yes, within reason. At busy times we ask you to have patience and do your best to make it easy for us to split - i.e. split evenly across the table or choose an amount you have calculated per person - splitting by item is not feasible at busy times. For big groups wanting to split we suggest buying drinks at the bar and bringing in correct change to pay for your food.

Our outdoor dining area is usually held for walk-ins or for drinks pre and post dinner. If you do have a special request to dine under the fairylights, we will do our best to accommodate you, weather permitting. 

We are taking a prepayment of $200 for all bookings of ten or more guests. This prepayment allows us to secure your spot in the restaurant. This is a prepayment, not a booking fee, and will come off your dinner bill as a dollar discount. The prepayment is non-refundable, but in the event of a lockdown, or a change in restrictions we would of course rebook, or work with you to find a solution. 

We take credit card details for all smaller bookings, and only charge in the event of a last-minute cancellation (within 48 hours of your booking) or no show. Our late cancellation/no show fee is $45 per person.

Yes, we love hosting large groups.

For any group of 10 or above, we require you to partake in our Chef's Banquet (see below). You can reserve your spot online simply by heading to our bookings page.

For very large groups or private functions, please fill out our function request form, and we will get back to you within two working days with some options - if you are looking to book within the next 1-2 working days, please give us a call.

We have a special Chef's banquet, starting from $85, which includes an array of our favourite dishes matched to your table's preferences and dietary requirements. It covers starters, mains and desserts.

The Chef varies the banquet for every table - WE DO NOT HAVE A SET BANQUET MENU. We do this because every table is different, and we pride ourselves on catering for your particular preferences and requirements.

Yes. We take dietary requirements seriously. Gluten-free and vegetarian options are part of our standard menu, but we can cater for nearly all requirements if you give us adequate notice. 

If you have vegan guests joining you, please let us know upon booking so that our chef can prepare accordingly. French cooking traditionally doesn't have many vegan options, however with enough notice, our chef can create something delicious for you. The kitchen does contain allergens, so please let us know if you have a severe allergic reaction to anything.

We have some very special desserts already on the menu, however if you would really like to bring a cake, we charge a $3 per person cakeage fee and ask you to still keep your sitting time.

Being so close to James Street and The Valley, there are so many options for a drink before or after dinner. We also have a large outdoor area on East St, where you can sit under the fairy-lit trees and enjoy your drink. Our neighbour Snack Man specialises in amazing European wine and classic cocktails. For large groups, we'd suggest making a note on your booking to flag that you'd like space before or after dinner. We can coordinate with the team at Snack Man and make that happen for you. For groups of 8 and under you can usually find a walk-in spot outside except at the busiest of times.

East, Bridge and Church Streets have lots of street parking. Ann and Wickham Streets have even more but watch out for clearways on weekdays till ~7pm, and parking meters until 10pm. There are paid secure parking garages under the Calile Hotel and at the M&A building, both within walking distance of East Street.

Yes, we do… we love hosting parties and large group dinners! The fact that you love our restaurants enough to choose us for a special occasion is fantastic. 

Between the three venues along East Street and the adjoining outdoor areas, we can accommodate just about any type of function or large group eg. Snack Man is great for groups up to 100 (stand-up/canape style), while mini is perfect for a more intimate, seated event. Happy Boy is loved for a long table dinner for a special occasion. We have also been lucky enough to host a range of wedding receptions at Snack Man and Happy Boy.

If you are interested, please fill out the form, and we will get back to you within 1-2 business days.

No sorry, we do not...except for our very special cookies!